As always, ff you would like to find out more about golf betting in general then our SBC Golf section is a fantastic resource to learn more. 
Good tipsters are hard to come by. Even harder to come by are free to follow tipsters that are also good. This is why the service that golf betting tipster Ben Coley provides for Sporting Life is so impressive; not only is Ben a great golf tipster with a profitable long term record when betting on golf, but he is also absolutely free to follow and you'll never have to pay a penny to see his tips.
You will of course have to risk your own bankroll, but as we'll explain in this blog post that is certainly a risk worth taking.
Ben Coley is the chief golf betting tipster and Deputy Head of Editorial for Sporting Life. His tips are freely available to follow on the Sporting Life website as the site operates an affiliates policy which relies on getting traffic to the site and readers betting through the affiliates links in the tipping articles. This is how they are able to give their tips away for free as they rely on getting numbers through the door rather than subscription costs.
Sporting Life is also owned by Sky Bet which means they implement a few tactics to try and get you betting at Sky. Firstly you can sign up for a free Sporting Life account that grants you special access to various betting content; but to do this you'll need a Sky Bet account as you login to Sporting Life using that account. Also as mentioned above the site will be pushing odds that are available at Sky bet and may well be biassed in this way when providing tips. So just make sure you're aware of these things when placing bets using this golf tipster service.
But taking that all into account, it does not impact on the quality of Ben's service and he can definitely attract the punters to Sporting Life with his fantastic golf betting record and expert betting reviews he provides on a weekly basis. 
+692 points profit in 2021 alone!
His betting record for 2021 alone was one of his best performances to date. According to the Sporting Life website and the SBC betting record which we track independently he returned an extraordinary +692.51 betting points in the year based on the advised stakes for every selection tipped.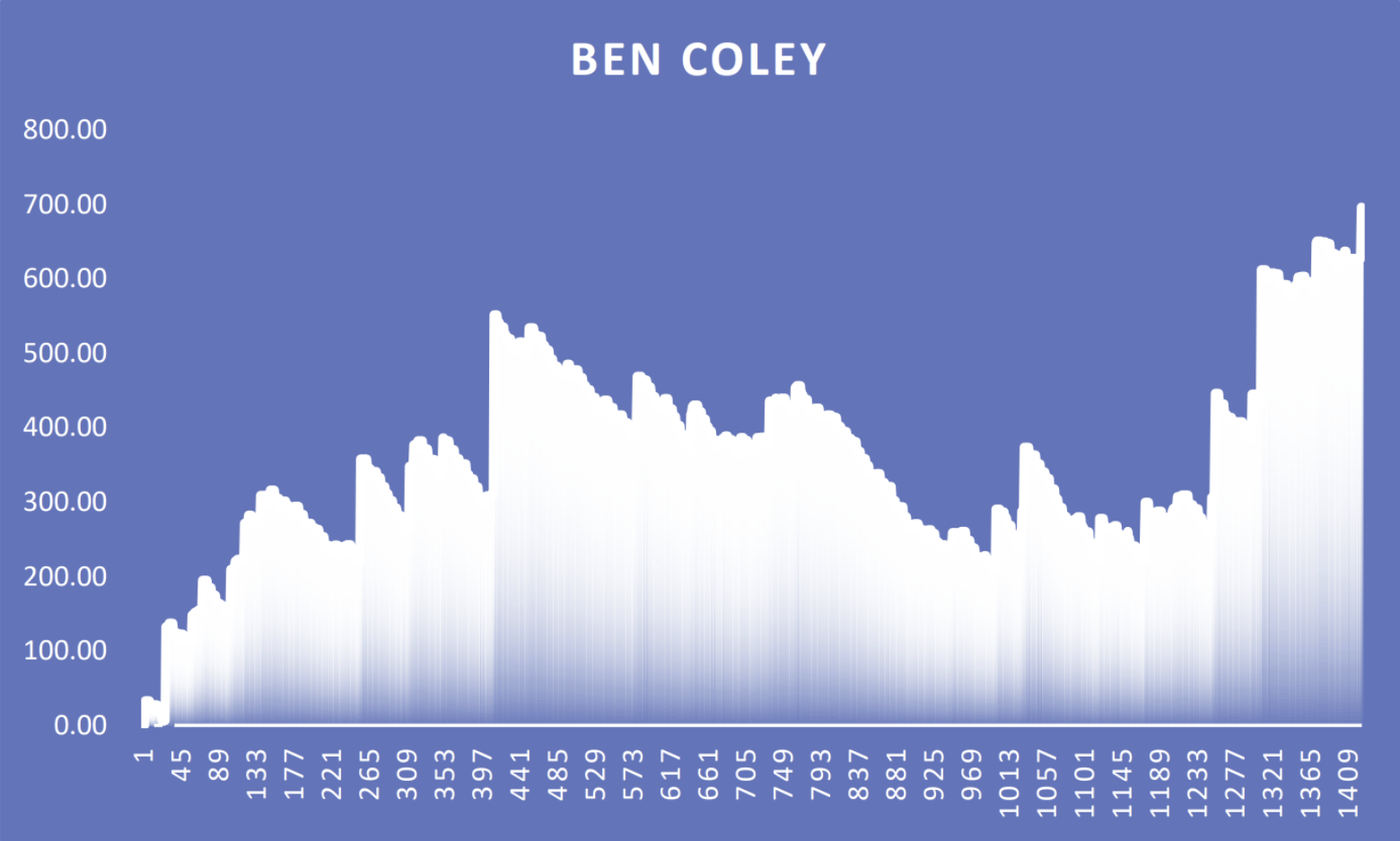 Ben's yearly record is available to view by anyone on the Sporting Life website here.
And as you'll see there have been many other profitable years secured by Ben's tipping service. There was a blip in 2019 but this was purely down to variance which is something that all profitable bettors are aware of and have to be comfortable with. But apart from that every other year has been a profitable one meaning 5 out of 6 profitable betting years.
So with the fact that Ben is clearly a profitable tipster, what is the best way to use the service? 
After all, it may not be completely clear on how to use Ben's points betting system (especially for beginners) and at SBC we have been successfully using the service for years. 
So let us impart some gambling wisdom that will steer you on the right track when using this fantastic golf betting service.
Bankroll management
As with almost all golf betting services, long periods without winners are commonplace. This is due to the nature of golf betting markets with relatively large fields fighting for just one winning spot. Ben clearly has an edge in the golf betting markets, yet you do need to be patient for this to manifest itself at times.
With that in mind it is important to assign an amount of money you are willing to risk when following Ben's tips and then assign a staking strategy based on that amount of money and the points tipping system he uses. 
Back in 2020 we took a deep dive into Ben's service and did some in depth analysis on Ben's results which involved independently reviewing a 12 month period of tips and calculating points return and ROI.
That period returned a healthy 116.29% profit at 11.13% ROI yet along the way there were all kinds of ups and downs to be contended with. 
It did allow us to see the biggest drawdown (losing period) which means we can calculate an appropriate bankroll and the number of points which is designed to deal with the biggest expected losing run based on historical results.
With the worst run seeing a drawdown of 344 points we would therefore advocate a betting bank in the region of between 500 to 600 points if following Ben in. The former figure is for those of you who take a riskier approach and the latter for those of you who wish to play it reasonably safe.
So if you allocate a £2000 bank to this strategy for example, that would be around a £3 or £4 point. You can see an example of Ben's tipping below and how he tips in betting points each meaning a £2000 betting bank would be £8 each-way if using a 500 point bank.
As with all betting, only risk what you can afford to lose and make sure you stick to your bank roll strategy in order to de-risk going bust.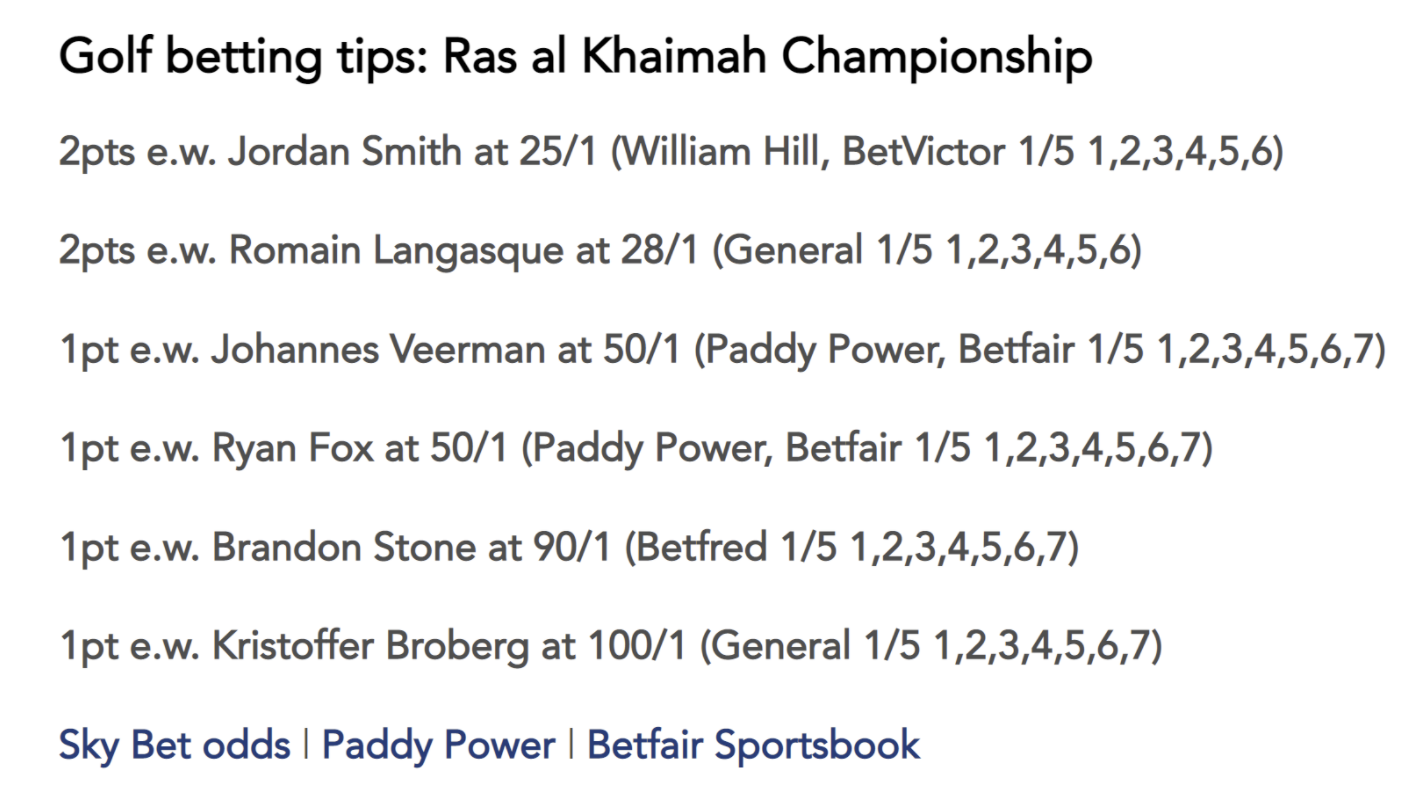 Odds movement and exchange strategy
With popular, free to follow tipsters, sometimes there is an issue of being unable to get on the advised odds due to bookies shifting odds after tips or due to the market moving the odds due to the weight of money behind popular bets.
Ben's service does also suffer from this to an extent but as this is golf betting odds are either much slower to move or they move less. 
During our review of Ben as mentioned above, we found that often after odds moved the market shifted back in our favour and we were able to get similar prices to what was advised.
Better still we were able to get bigger odds at Betfair Exchange meaning we could eke out that extra bit of value whilst not risking the wrath of the bookmakers with account limitations and closures.
To give a live example of the odds movement in action – below are the tips as put up by Ben for 
the Portugal Masters. I have listed the original odds put up by him at 5.23pm on the Monday 7th
September 2020 alongside those available 24 hours later.
Note – Coetzee won with Laurie Canter 2nd to make it a very profitable tournament!
3pts e.w. George Coetzee at 18/1 (1/5 1,2,3,4,5,6,7)
Best odds 24 hours later: 15/1 (bookmaker) and 18.5 (Betfair)
1.5pts e.w. Jason Scrivener at 30/1 (1/5 1,2,3,4,5,6,7)
Best odds 24 hours later: 30/1 (bookmaker) and 44 (Betfair)
1.5pts e.w. Wilco Nienaber at 33/1 (1/5 1,2,3,4,5,6)
Best odds 24 hours later: 25/1 (bookmaker) and 29 (Betfair)
1pt e.w. Laurie Canter at 70/1 (1/5 1,2,3,4,5,6,7)
Best odds 24 hours later: 66/1 (bookmaker) and 75 (Betfair)
1pt e.w. Jake McLeod at 125/1 (1/5 1,2,3,4,5,6,7)
Best odds 24 hours later: 100/1 (bookmaker) and 130 (Betfair)
Bookmaker accounts you'll need
Ben will mainly tip at 3 bookmakers: Sky Bet, Paddy Power, Betfair Sportsbook.
That being said, many of his tips can be matched at other bookies that are offering the same odds and place terms. 
Always check Oddschecker to see if the odds and place terms are either the same or better.
Below is a list of valuable to have bookie accounts for when betting on golf in general:
Sky Bet

Paddy Power

Betfair Sportsbook (Note – Paddy Power & Betfair Sportsbook offer the exact same terms as they are owned by the same company)

William Hill 

Bet365 

Boylesports

Betfred (Note – you can match Betfred's golf terms online in shops)
And don't forget you can follow the bets at the exchange as mentioned above.
Summary 
So therein lies the reality of following Ben – a great tipster no doubt, but one where you might have to work and be shrewd to get the value odds. If able to do that and also willing to ride out the cruel nature of golf betting at times, then the rewards are clearly there. 
We will continue to track and report back on the performance of Ben's tips in our Tipster Profit Reports with an eye to future increases in recommendation and a possible Hall of Fame entrance.
If you would like to find out more about golf betting in general then our SBC Golf section is a fantastic resource to learn more.